Renewable Energy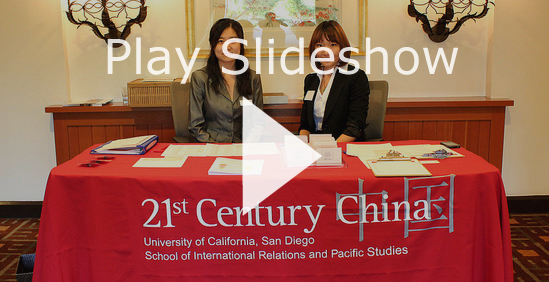 Renewable Energy in the U.S., China, and European Union: Technology, Trade and Policy
Feb. 3, 2012
Leading experts from the U.S., China, and the European Union explored the ongoing dynamics of technology, trade, and policies of renewable energy in their economies. The conference initiated a long-term dialogue among scholars and practitioners from various countries and disciplinary fields that stimulated new research projects and contributed to the ongoing policy debate.
Organized in partnership with the GPS Center on Global Transformation and the Friedrich-Ebert-Stiftung Foundation, Washington, D.C. The 21st Century China Center gratefully acknowledges the generous support of the Sempra Energy Foundation.
Conference Agenda
Susan Shirk, Chair, 21st Century China Center, UC San Diego
Development of Renewable Energy in China
Ji Zou, China Country Director of the World Resource Institute (WRI); Professor, Renmin University of China
R&D Policy in Renewables in the U.S.
Carolyn Fischer, Senior Fellow, Resources for the Future (RFF)
Renewable Energy Policy: German Experience
Dominic Marcellino, Ecologic Institute, Washington D.C.
Chair

Peter Cowhey, Dean, School of Global Policy and Strategy, UC San Diego
Participants
Josh Graff Zivin, Associate Professor of Economics, GPS, UC San Diego
Craig Hart, Energy Policy and Climate Program, John Hopkins University
Brian Murray, Research Professor and Director for Economic Analysis, Nicholas Institute for Environmental Policy Solutions, Duke University
The role of Technology and Innovation in Chinese Clean Energy Development

S. Julio Friedmann, Chief Energy Technologist, Lawrence Livermore National Lab
Renewable Energy Trade between the U.S. and China
Joanna Lewis, Assistant Professor of Science, Technology and International Affairs, Edmund A. Walsh School of Foreign Service, Georgetown University
Challenges of Renewable Energy Development in China
Junjie Zhang, Assistant Professor of Environmental Economics, GPS, UC San Diego
David Victor, Professor, Director of the Laboratory on International Law and Regulation, GPS, UC San Diego