Overview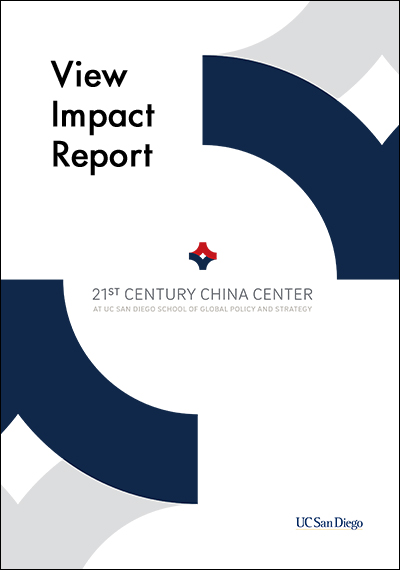 The mission of the 21st Century China Center is to produce and disseminate impactful evidence-based research about China, and to enhance U.S.-China relations by advancing scholarly collaboration, convening policy discussions, and actively communicating with policy makers and the general public in both countries.
The 21st Century is the Pacific Century, a time when the interaction of Asia and the Americas becomes the pivot point for global dynamics. China's evolution – how its politics, economics, society, culture and military develop – will be a critical factor in determining how the history of this century will be written. 
The 21st Century China Center was established in 2011 at the UC San Diego School of Global Policy and Strategy (GPS). It is a leading university-based think tank that produces scholarly research and informs policy discussions on China and U.S.-China relations.
As a center valuing public engagement, we distinguish ourselves by:
Focusing on policy-relevant research and practical dialogues in areas that are of critical and immediate relevance to China's development and U.S.-China relations
Undertaking joint explorations of important topics together with practitioners and policymakers in the government and in the private sector beyond the academic setting
Pursuing bilateral collaboration between U.S. and China in policy analysis and research
Seeking to disseminate information and knowledge to a broader audience outside the university through policy briefs, community salons, briefings and other communication channels
The center's core activities emphasize both scholarly research and interactive engagement and include collaborative research initiatives, conferences, workshops, industry roundtables, publications, public lectures, community salons, cultural events and youth programs.
二十一世纪中国研究中心简介
长期以来,加州大学圣地亚哥分校国际关系与太平洋研究学院一直重视对中国的研究和课程设置。 近年来该学院当代中国问题研究专家增至九人,为美国高校之最。2011年学院设立"二十一世纪中国研究"项目,从建制上进一步加强对中国的研究。"二十一世纪中国研究" 创建于全球权力变更和中国崛起之时。 中美两国在二十一世纪将面对外交和实务多方面的挑战,同时也面临在全球问题上广泛合作的机遇。 两国间的竞争与合作对全球的未来至关重要。
二十一世纪中国研究中心目标:
积极推进对当代中国的研究,尤其是政策相关之研究

培养新生代中国问题和中美关系方面的专家

建立与中国高校、智库和研究机构在国际问题研究上的双边合作

加强中美两国学界、业界、政府、传媒和舆论领袖之间的交流和联系
该中心研究阵容强大,特别重视实证研究和相关政策分析,您可以到中心网站了解更多信息http://china.ucsd.edu。
Community Partners
Our region has many individuals, groups and organizations that are involved with China and are passionately interested in its future and fostering mutual understanding between American and Chinese societies. Following are our longstanding partners: