Robert F. Ellsworth Memorial Lecture Series
The Robert F. Ellsworth Memorial Lecture is named after Ambassador Robert "Bob" Ellsworth (1926-2011), a highly respected public servant, a patriot and a national treasure. He had a diverse and illustrious career as a lawyer, politician, statesman, diplomat, strategist and investor. He was also a scholar who fought for the advancement of American leadership, security and principles.
"U.S.-China Relations in an Age of Adaptation"
Seventh annual Robert F. Ellsworth Memorial Lecture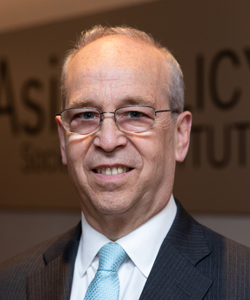 Speaker: Daniel Russel is the Vice President for International Security and Diplomacy at the Asia Society Policy Institute (ASPI). A career member of the Senior Foreign Service at the U.S. Department of State, he most recently served as the Assistant Secretary of State for East Asian and Pacific Affairs and as the White House as Special Assistant to the President and National Security Council (NSC) Senior Director for Asian Affairs. During his tenure there, he helped formulate President Obama's strategic rebalance to the Asia Pacific region, including efforts to strengthen alliances, deepen U.S. engagement with multilateral organizations, and expand cooperation with emerging powers in the region.

Date: June 3, 2019
Location: The Great Hall, International House, UC San Diego

Summary

As the U.S.-China rivalry roils the region, there is a new dynamic underway in Asia that goes beyond the struggle for primacy between Washington, D.C. and Beijing. Despite an emerging pattern of increasing deference to China's policy preference, few countries in the region are fully "bandwagoning" with China. Instead, Asia is adapting to a less dependable America, and a stronger and more assertive China, through new arrangements and institutions. This structural diversification process will impact both U.S. and Chinese interests in the long term and underscores that the next U.S. administration, regardless of party or policy, will encounter a more challenging and altered environment in this crucial region.


Media
---
Past Ellsworth Lectures

Since 2013, this series has become an important forum in San Diego for discussing affairs in the Asia Pacific region, drawing audiences from the academy and beyond. Delivered by seasoned statesmen and experts, these remarks and themes are still relevant to the dialogue surrounding U.S.-China relations today.