Robert F. Ellsworth Memorial Lecture Series
The Robert F. Ellsworth Memorial Lecture is named after Ambassador Robert "Bob" Ellsworth (1926-2011), a highly respected public servant, a patriot and a national treasure. He had a diverse and illustrious career as a lawyer, politician, statesman, diplomat, strategist and investor. He was also a scholar who fought for the advancement of American leadership, security and principles.

"The Return of Religion and China's Future"
Sixth annual Robert F. Ellsworth Memorial Lecture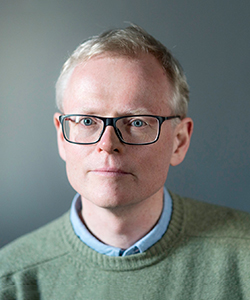 Speaker: Ian Johnson is a Pulitzer Prize-winner, and has written for the Wall Street Journal, The New York Review of Books, and The New York Times. His latest book, "The Souls of China: The Return of Religion After Mao," explores the explosion of faith and what it means to be Chinese and how to live an ethical life in a country that is searching for new guideposts.
Date: March 21, 2018
Location: Robinson Auditorium, UC San Diego School of Global Policy and Strategy
Summary
Following a century of violent anti-religious campaigns, China is now filled with new temples, churches and mosques — as well as cults, sects and politicians trying to harness religion for their own ends. What does the return of religion mean for the future of the world's newest superpower? Acclaimed journalist Ian Johnson addressed this question in the Sixth Robert F. Ellsworth Memorial Lecture. 
Materials and Media
Ian Johnson chronicles the rise of religion in China
March 27, 2018 | By Rachel Hommel | GPS News
GPS's 21st Century China Center welcomed Pulitzer Prize-winning author Ian Johnson for its sixth annual Robert F. Ellsworth Memorial Lecture
Past Ellsworth Lectures

Since 2013, this series has become an important forum in San Diego for discussing affairs in the Asia Pacific region, drawing audiences from the academy and beyond. Delivered by seasoned statesmen and experts, these remarks and themes are still relevant to the dialogue surrounding U.S.-China relations today.