Past Sokwanlok Distinguished Lectures
Since 2015, this series brings top leaders and thinkers from China, drawing audiences from the academy and beyond to hear front-line insights and analysis of the most pressing trends in China.
First annual Sokwanlok Distinguished Lecture on China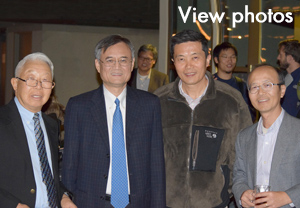 Speaker: Qian Yingyi (钱颖一), Professor, Department of Economics and Dean, School of Economics and Management, Tsinghua University
Date: Dec. 8, 2015
Time: 5-7 p.m.
Location: UC San Diego Faculty Club, Atkinson Pavilion
Summary
As China's economic growth rate has declined to 7.5% in 2014 from its recent historic average of 9.8%, the once unstoppable economy is said to have entered a "new normal." This new paradigm is forcing China's leaders to face a series of new and vexing questions: How to increase the quality of growth and make substantive reforms to the growth model? What will be the spillover effects of this slower growth? Yingyi, one of China's foremost economists, helped navigate the future of China's economy during this talk.
Speaker Bio
Qian Yingyi (钱颖一) was born in Beijing and graduated from Tsinghua University with a degree in mathematics in 1981. He received his Ph.D. in economics from Harvard University after earning an M.Phil. in management, science, operations research from Yale University and an M.A. in statistics from Columbia University. He was on the faculty at Stanford University, the University of Maryland and UC Berkeley. He was appointed as the dean of the School of Economics and Management at Tsinghua University in October 2006.