Mission
Our center emphasizes both scholarly and interactive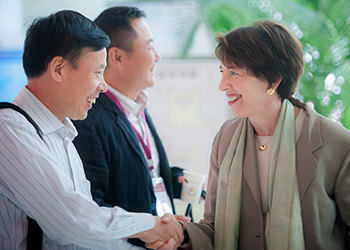 engagement with China. Our mission is to become a preeminent international hub for policy-relevant research on China and to strengthen ties between the Chinese and American communities. 
The history of the 21st Century will depend on how China's economy, politics, and society evolve and how China manages its relations with the world. Our program joins together UC San Diego's renowned scholars, professionals involved with China, and Chinese partners to address critical policy issues that are front and center as this history unfolds.
Goals
The goal of this new initiative is to create a world-class academic, policy-oriented and community-minded China center in California with the combined resources of UC San Diego and the San Diego and Southern California communities. We will accomplish this through four main goals.
Promoting original, timely and policy-relevant research on China.
Focused areas include particularly in the areas of: environment, energy, climate change, innovation policy, Communist Party elite politics, military affairs, defense and dual-use industries, macroeconomic policy, economic reforms, trade, government debt, religion, media and Internet, social stability and foreign policy, as well as in U.S.-China relations
Preparing the next generation of experts on China and U.S.-China relations.
Forging institutional partnerships with Chinese universities, research centers and think tanks as a means to addressing global issues.
Cooperation with the Fudan-UC Center on Contemporary China to carry out joint research projects, bilateral forums, seminars and conferences featuring research by Chinese and American scholars
Joint research with scholars from Tsinghua University on innovation and technology, environment and societal change
Collaboration with experts from the National Center for Climate Strategy and International Cooperation of China (NCSC), a new think tank on climate research under the National Development and Reform Commission (NDRC)
Connecting local and national communities in China and the U.S. by providing a regular forum for dialogue among concerned citizens, opinion leaders, academic, business, media and foreign policy experts.